HOLY GRAAL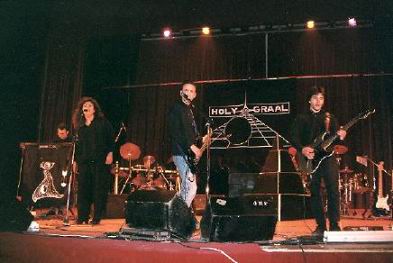 "The Sacred Order Of The Music"
Interview with Frédéric Isnard

 

By Sergio Vilar

Frédéric, what are your musical beginnings and your more important influences as musicians?


At the beginning we all had different musical backgrounds and influences from heavy metal, progressive rock, blues, jazz, to classical music, soul or reggae music. But when formed the band it was around what we had in common, and it was metal and progressive rock. So very naturally bands like Black Sabbath, Iron Maiden, Metallica, Queensr˙che, UFO, Marillion, Pink Floyd, Peter Gabriel and others were probably our most important influences. But it is likely that each one of us had less conscious influences from the rest of our respective background.

Your music combines progressive and metallic influences. Is the idea of the band to point toward the sound of what is called Progressive Metal?


From the beginning we just wanted to play our own compositions, and in that time Prog Metal was not an acknowledged style. And this has been a problem for years, because people wanted to put us in a box. Either in heavy metal or in progressive rock. And it could not match.
What happened is that the music we were building was close to what we call now "progressive metal".


It was not a choice, it's a result.

What influence does each one of the Holy Graal's members have?


As I said before, our musical tastes cover lots of different styles. But for the majority of us, what we listen is not necessarily what we will put in our songs. It was probably different in our beginnings, but now it is two different things. For example, when we listen to some Sepultura album or Placido Domingo's, this will not automatically appear in our composition. And surprisingly, we are not really aware of the new releases and evolutions in the progressive rock area.

Do you have contact with other bands of the same style as you in France?


Actually we rather have contacts with bands from the South of France, and they play various different styles (Eclat, Mirage, Iris, Cyril Achard's Taboo Voodoo... ).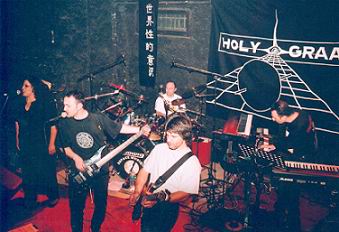 Why did you decide to take out an EP instead of a complete album?


"Just a Signal… " is a self-production CD, and we could not afford a full-length album in a limited time. What we tried to do is to add few more titles to the 4 original present on the first release. "Just a Signal… " will probably evolve as a software, even if this is not usual for an album.

How much rehearsal and did elaboration require "Just A Signal..." ?


It's difficult to say, as some titles were quite old and others were new. On the top of that, we basically couldn't afford long recording sessions. The titles were already "frozen" and we tried to arrive in studio as precise and ready as possible. Therefore it did not take that much time all together to record them.

Is there some special concept behind "Just A Signal..." ?


Well, there is, but it's not only in "Just a Signal… ". Most of the 25-30 titles we have

composed in the past ten years are linked to a more general script, where you can you can find some universal themes but also quite introspective moments. This goes from this character, which wakes up in "Birds", then expresses some personal frustrations in "Insane", and becomes close to a kind of relief in "Global Awareness". "Just a Signal… "is expected to present essential parts of the whole thing.

How do you observe the musical present time of Europe? What styles do you listen, besides the progressive rock?


We have the feeling there's a lack of solid novelty and creation. It seems that lots of bands recycle existing music (maybe because they are forced to). The bands we use to like are very disappointing today, and the new ones don't survive their second or third album. So finally we have fun with "old" albums or with today's short life music from different styles.


Yet Dream Theater could be corresponding to what we expect (especially for Gil-keyboards and Cyrill-drums).


Apart of that, you can find heavy and death metal, noisy pop rock and new metal, jazz-rock, flamenco, oriental... in what we listen.

What are your plans for the rest of the year?


We may record one or two more titles, to increase "Just a Signal… "content, but the important rendezvous with the people who follow us is the Prog Sud festival in May.

Thank you for your time Frédéric. Do you want to add something to finish the interview?


Apart of common facts or stereotypes about Argentina (current economic problems, beef production, elections, former military regime, Tango…), we should know more about your country. And especially regarding music.

 

Nucleus Interview: 16/02/04